November 17, 2023
By Imani Finkley
The Alumni Roundtable, hosted by the Office of Diversity, Equity, and Inclusion (DEI) within the Cornell Ann S. Bowers College of Computing and Information Science, gave current students the chance to participate in engaging conversations with alumni and peers. 
At the event, held Sept. 21 in Willard Straight Hall Memorial Room, students from Cornell Engineering and Cornell Bowers CIS gathered with industry professionals who once sat in the very same Cornell classes to get where they are today.  
"I am excited that both students and alumni in attendance will be provided with the opportunity to connect with each other and strengthen their network," said Maranda Miller, assistant director of Cornell Bowers CIS's Office of DEI, as she introduced the Alumni Roundtable event.
While dining, students from a range of majors and career interests gained advice, networked, and debated over the functionality of a cheeseburger hat versus hotdog shoes – one of the many unique, prompted discussion questions offered that night.   
The Alumni Roundtable is not only a great opportunity for current undergraduates, but for Cornell alumni as well. Stephanie Shum '20 shared that, because she appreciated the chance to "talk with amazing students and have a great time" at last year's roundtable, she was more than happy to return this year.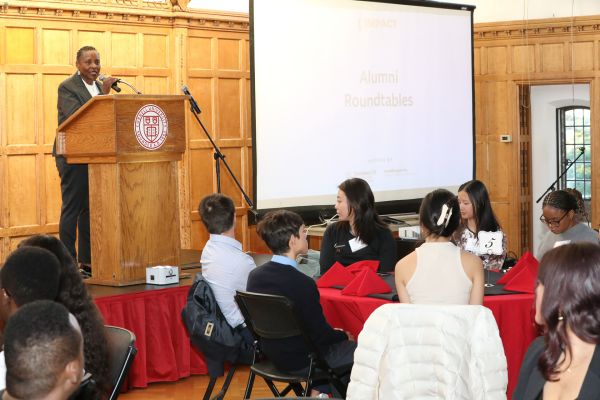 Similarly, students also enjoyed the chance to network with their peers and alumni. One information science undergraduate said that their roundtable had "a lot of engaging social and career conversations," so they left the event "more confident than when [they] came in."
The evening was not only a happy hour of enjoying food, but also offered a moment of personal inspiration, reminding students they are not alone on their academic and career journeys.
If you are interested in learning more about the Alumni Roundtable or any upcoming DEI events, please email Cornell Bowers CIS's Office of Diversity, Equity, and Inclusion at dei-office@cis.cornell.edu.  
Imani Finkley '24 is a communications assistant for the Cornell Bowers CIS's Office of Diversity, Equity, and Inclusion.