May 21, 2023
As part of the largest graduating class in the history of the Cornell Ann S. Bowers College of Computing and Information Science, a few graduates in the Class of 2023 shared reflections on their undergraduate years. With varied accomplishments at Cornell, their wide-ranging educational initiatives embody their ingenuity and perseverance.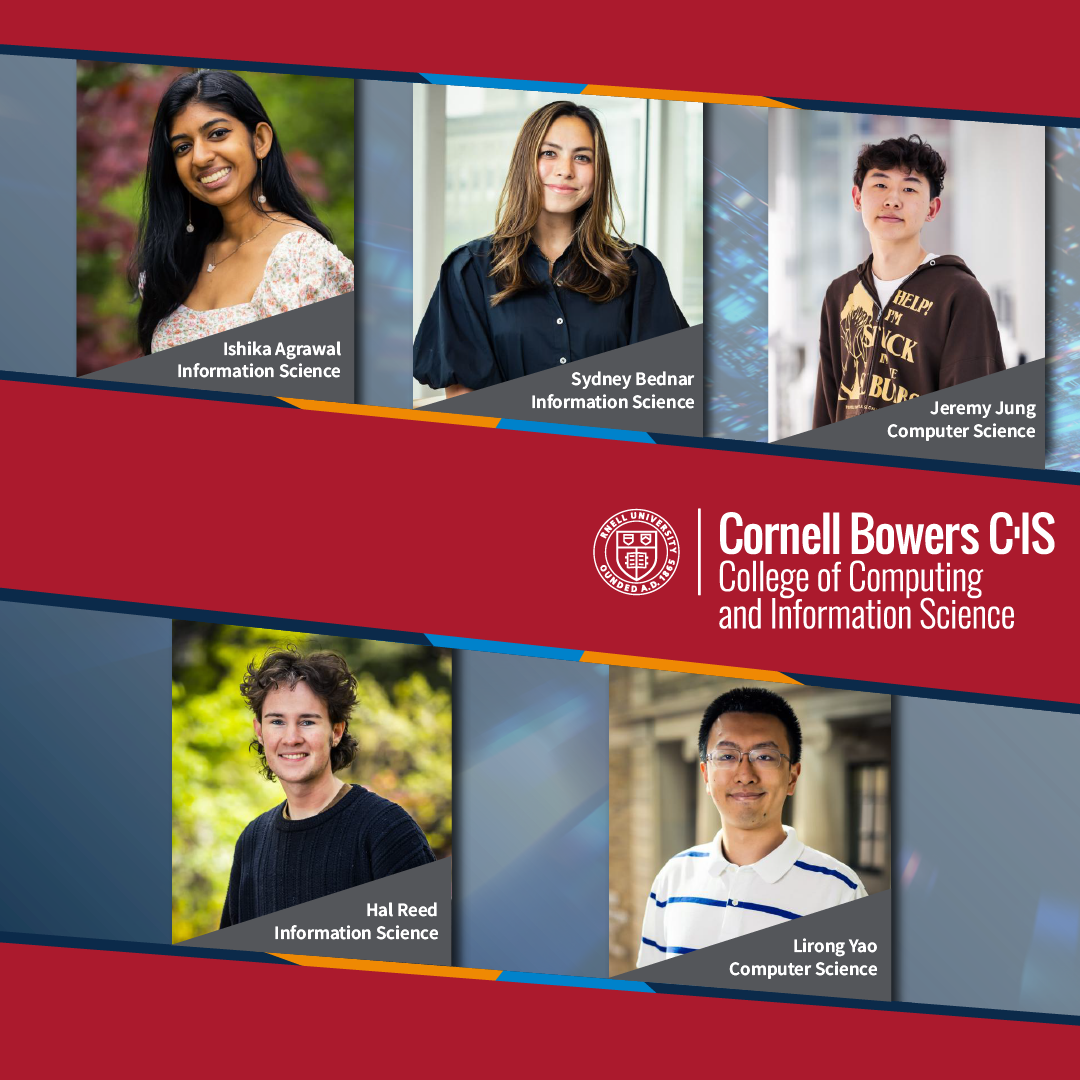 Information Science
Warren, N.J.
What have you accomplished as a Cornell student that you are most proud of, either inside the classroom or otherwise?
I'm most proud of Pavvilion, a startup I launched with my peers, Nina, Max, Lizzie, Meredith and Noah. Starting within the Cornell Tech Policy Lab, it's been an incredible journey from the initial sketches to figuring out what it takes to build an app to conducting user interviews and testing to finally launching this past semester and getting 300 users. Taking this leap into the world of entrepreneurship has taught me so many valuable lessons about balancing user and business goals, legal questions about privacy and security, selling our idea to users and investors and putting myself out there to start something completely from scratch.
---
Information Science 
Greenwich, Conn.
What was your favorite class and why?
I took INFO 3450: Human-Computer-Interaction Design with Prof. Gilly Leshed, and it was my first exposure to user-centered design. We spent the semester learning about design principles and ethics and then applying that to our own semester-long group projects where we were tasked with designing a technology that solves a social problem. My group created an application to help people quit vaping. This project required us to conduct user interviews, as well as complete other outside research before settling on a design, which helped ensure that we properly responded to user needs. I loved this class because it was challenging but also very applicable. The skills I gained over the course of that semester have been incredibly useful in my job as a product designer, as well as in many of my other classes at Cornell.
---
Mathematics & Computer Science
Aurora, Ill.
Who or what influenced your Cornell education the most? How or why?
I still vividly remember the moment in office hours for Numerical Analysis, where I was having a one-on-one conversation with Professor Alexander Vladimirsky. I was confiding to him about how I found the material very difficult and felt insecure that I was asking too many clarifying questions during class. In response, he told me that asking questions takes courage — a lot of others have the same questions but don't have the willingness to speak up. He then encouraged me to ask even more questions, as they helped not just me, but the entire class. It was at this moment that I realized that learning only happens when I remove my fear of judgment. Only when I am vulnerable can I be fully receptive to learning everything the world has to offer.
---
Information Science & History
Audubon, Pa.
Why did you choose Cornell?
When I was figuring out which schools to apply to, I had the goal of studying computer science in the context of humanities frameworks; I had a lot of curiosity about computing and enjoyed building technological skills, but I also wanted to continue practicing my passions for media and history. The fact that Cornell offered a CS major in Arts & Sciences connected deeply with me, and I was even further excited by the Milstein Program in Technology & Humanities and their goals to pursue the same intersections I valued. Looking back, I am grateful for whatever wisdom my 17-year-old self had: the fact that my path evolved from CS to information science and history has shown me the importance of faculty and structures that promote academic exploration.
---
Computer Science
Qingdao, Shandong, China
Where do you dream to be in 10 years?
I dream of working as a research scientist on cutting-edge technology to build real artificial intelligence machines. This has been my long-standing ambition even before I started studying at Cornell. Pursuing a computer science degree here has been a step toward achieving that goal.