November 23, 2022
By Sophia Song 
Students shared murder theories – and personal stories – during the Cornell Bowers CIS' Office of Diversity, Equity, and Inclusion's (DEI) murder mystery dinner, held October 26 in the Willard Straight Hall Memorial Room.   
The event was the debut of Decode-It, a program that encourages undergraduate and graduate students to learn about diversity, equity, inclusion, and belonging through an engaging music, dance, poetry, art, or drama experience.  
The Decode-It dinner was a culinary and visual feast with more than 80 Cornell Bowers CIS students in attendance. Murder Mystery Co.'s talented cast performed a 1920s Mafia marriage murder mystery show entitled "Death of a Gangster." Taking on the role of detectives, participating students interacted with the actors in an immersive and suspenseful atmosphere as they searched for the bridegroom's killer among a slew of potential suspects.   
"I enjoyed the performances and how engaged the actors were with the audience," said one undergraduate student. "The mystery was really interesting, and the plot twists caught me off guard…it wasn't predictable." 
The Decode-It murder mystery dinner fostered one-on-one conversations among students, letting them share their unique cultural experiences and personal stories. Participating students not only met with their peers to expand their networking circles, but also raised their awareness and knowledge of different cultures through those exchanges. 
"It was an inquisitive experience, and everyone was so friendly!" exclaimed one participant. "It was amazing that we learned about each other's interests and interesting stories as we solved cases together." 
As the students and actors collected clues and solved the case, students were able to disclose their strengths and challenges, potentially boosting their confidence and ability to express their authentic selves with others.  
Although every team was invited to develop their hypothesis of "who dunnit?" only one team successfully solved the case: Christine Chau '22 (IS), Rachael Adelson '23 (CS), Jasmine Herrera '23 (CS), and Adi Carmel '23 (CS).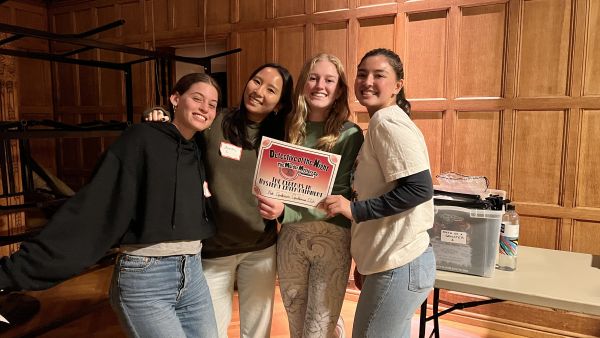 The winning team from left to right: Adi Carmel, Jasmine Herrara, Rachael Adelson, and Christine Chau.
To learn more about Decode-It or how you can get involved in upcoming DEI activities, please contact the Cornell Bowers CIS' Office of DEI at
dei-office@cis.cornell.edu
, or visit in person on the 5th floor of Rhodes Hall. 
Sophia Song is a Communications Assistant/Undergraduate Ambassador for Diversity, Equity, Inclusion, and Belonging at Cornell Bowers CIS.