November 17, 2022
By Patricia Waldron 
The Cornell Ann S. Bowers College of Computing and Information Science rolled out the red carpet at its New Majors Welcome Event, a celebration to embrace newly declared students and showcase the breadth of opportunities, activities, and services now available to them.
More than 200 students attended the event held Oct. 27 in the Statler Auditorium. Attendees received a warm welcome from Kavita Bala, dean of the college, and introductions to LeeAnn Roberts, director for the Cornell Bowers CIS' Office of Diversity, Equity, and Inclusion, and Ingrid Jensen, director of Student Services. A faculty panel offered advice to the new majors, and leaders from student groups promoted their organizations.
Cornell Bowers CIS majors receive admittance to the university through Cornell Engineering, the College of Agriculture and Life Sciences, or the College of Arts and Sciences. But once they declare a major in biometry and statistics, information science, computer science, statistical science, or information science, systems, and technology, they have access to a variety of exciting courses, clubs, professional development activities, and resources through the college.
 "It is an incredibly exciting time to be in this field," said Bala in her opening remarks. "Whatever you learn over the next few years, we really hope that you will take it and have an impact on future technologies."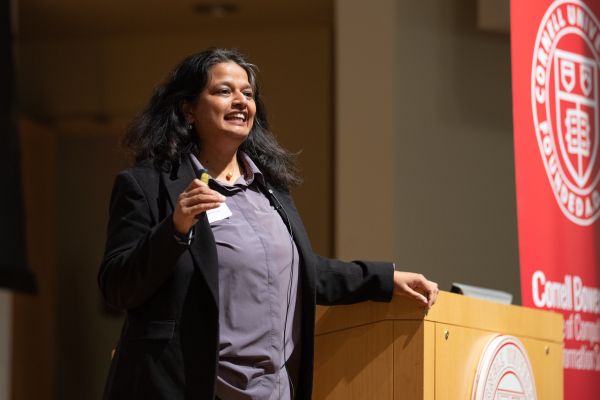 During the faculty panel, David Williamson, chair of the Department of Information Science and professor of operations research and information engineering, summed up his advice in four words: "Show up, get help."
"You'd be surprised how much you learn when you actually show up to lectures," Williamson joked. He also urged students to take advantage of the many resources available on campus. These include faculty and course staff office hours, Cornell Bowers CIS' Office of Diversity, Equity, and Inclusion, one-on-one advising appointments with Cornell Bowers CIS Student Services staff advisors, and the university mental health resources.
Eva Tardos, the Jacob Gould Schurman Professor of Computer Science and department chair, advised students to find a community that supports them. "Having your community, where you're engaged and you're active, I think makes your life a lot better," she said.
Faculty also discussed the numerous opportunities for student research available within the college. "When you get involved in undergraduate research, you can be creative, and you can own that topic," said Martin Wells, the Charles A. Alexander Professor of Statistical Sciences and chair of the Department of Statistics and Data Science. "It really puts all the coursework that you're taking together."
The many opportunities to do research is what attracted Devisree Tallapaneni '24, a double major in physics and statistics who attended the welcome event. "I'm really interested in the field of astrostatistics, which is a very niche and interdisciplinary area," she said. Tallapeneni is already involved in astronomy research but is also interested in research in statistics. She plans to go on to graduate school after graduation.  
The event wrapped up with presentations from student groups, including the Association of Computer Science Undergraduates (ACSU), the Information Science Students Association (ISSA), and the Underrepresented Minorities in Computing (URMC). Along with Women in Computing at Cornell (WICC), who were unable to attend, these groups offer mentoring, professional development, networking opportunities, and social activities for students in the college.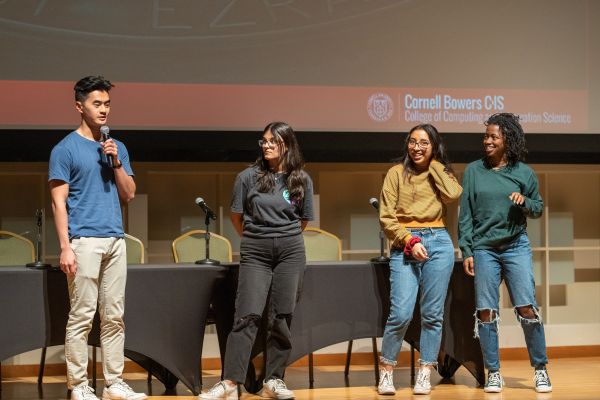 A student group presentation from the New Majors Welcome Event.
Beyond these groups, there are many other opportunities to be involved in the college. Students can join CornellAppDev – a group that develops apps that benefit the local community, become a teaching assistant, participate in a hackathon, or apply for DEI programs, like the SoNIC Summer Research Institute or the Social Impact Summer School.
With all of these options, it can almost feel like too much of a good thing, Bala said.
"There are many opportunities – it may be a bit overwhelming," she said. "Don't get overwhelmed, get excited about it. Reach out to the Student Services group and they can help you navigate all of it."
Patricia Waldron is a writer for the Cornell Ann S. Bowers College of Computing and Information Science.