February 27, 2023
Undergraduate students and future innovators who recently chose the Cornell Ann S. Bowers College of Computing and Information Science as their academic home were recognized and celebrated during the college's New Majors Welcome event.
More than 200 newly declared majors to Cornell Bowers CIS enjoyed dinner and conversation – and received red and black college scarves and beanies – at the event, which was held Wednesday, Feb. 15, in the Statler Hotel Ballroom. Roughly 30 faculty members and several support staff from the college's three departments – computer science, information science, and statistics and data science – ate with students and shared knowledge about the departments and the many opportunities available to Cornell Bowers CIS undergraduates, whether in academics, research, or clubs.
Attendees heard from student leaders in campus groups like Women in Computing at Cornell, Association of Computer Science Undergraduates, Underrepresented Minorities in Computing, and the Information Science Student Association, as well as staffers from the college's Student Service Office and Office of Diversity, Equity, and Inclusion.
"You are joining our community at one of the most exciting times in the fields of computer science, information science and statistics and data science," said Kavita Bala, dean of Cornell Bowers CIS, in her opening remarks. "New computing and information technologies are poised to upend centuries-old institutions like transportation, healthcare, commerce, urban infrastructure, finance, and more." 
Undergraduates are admitted to Cornell through one of three admitting colleges: Cornell Engineering, the College of Agriculture and Life Sciences, or the College of Arts and Sciences. They then find their way to Cornell Bowers CIS by declaring majors such as biometry and statistics, information science, computer science, statistical science, or information science, systems, and technology.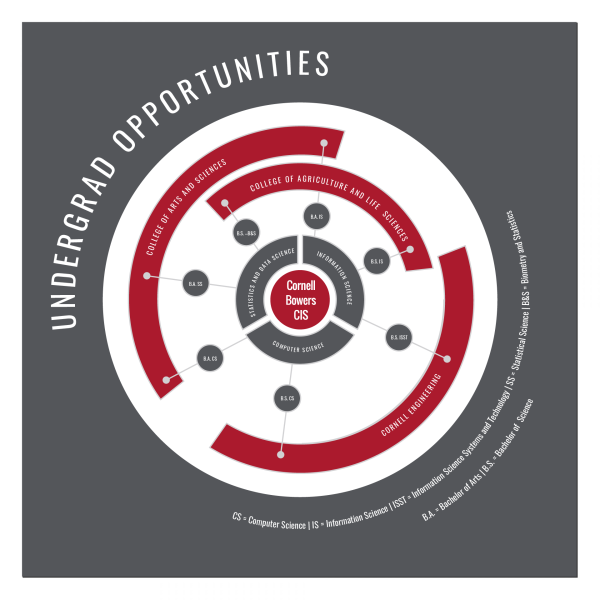 Undergraduate opportunities available at Cornell Bowers CIS
More students than ever are flocking to Cornell Bowers CIS to gain fundamental knowledge and skills needed to make an impact on our increasingly connected world. Today, the college's undergraduate majors total more than 2,000, reflecting the relevance of the college's leading, interdisciplinary education.
"There are so many fields you can get involved with," Bala said, "and when you get that degree and go out there, you will have an incredible and lasting real-world impact."