October 19, 2022
At an age when most professionals are well into retirement, Don Greenberg '55, B.C.E. '58, Ph.D. '68, has shown few signs of slowing down.
Sure, he feels every bit of his 88 years on occasion – "I mean, I'm getting old," he said – but when his day begins, he's as spry as someone half his age, or younger.
"I usually get up at around 6, make a very simple breakfast, and all of a sudden my mind is going – I can't wait to come in and start working on something new," said Greenberg, the Jacob Gould Schurman Professor of Computer Graphics in the College of Architecture, Art and Planning (AAP).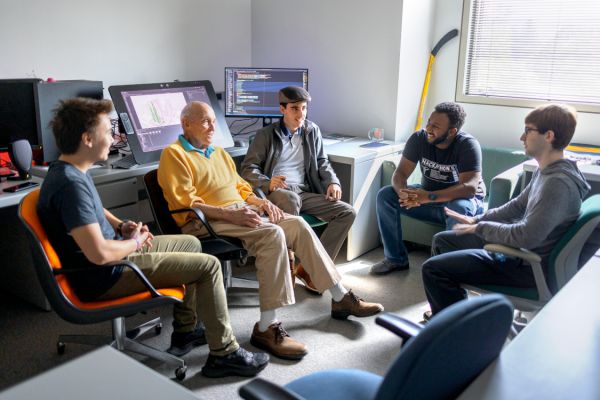 Don Greenberg meets with students in his class "Design in the Age of Digital Twins" in Rhodes Hall.
And Greenberg – a "triple Red" whose father, sister, two uncles, wife Iris ('58, M.S. '64) and all three children went to Cornell – isn't just teaching the same old things he's taught since he started at his alma mater more than 50 years ago. As he's done his entire career, he's pushing the boundaries of his fields.
This semester, he's launched a new undergraduate and graduate course for students in both architecture and computer science, who will learn and apply emerging digital visualization tools and software for designing the built environment.
"Design in the Age of Digital Twins," listed in both AAP and Cornell Engineering, expands the realm of 3D digital design by enabling architects and engineers to visually demonstrate, in real time, the effects of such factors as energy use, sunlight and extreme weather events early in the design process, when strategic decisions are made.
"The digital twin is a complete re-creation," said John Wolford '20, M.S. '22, one of Greenberg's two teaching assistants, along with second-year master's student Leul Tesfaye '20.
"If there's something I want to know about the physical building, I should be able to find that in the digital twin," Wolford said. "Obviously, sometimes you have rough approximations – you're not going to see every little speck of dust – but if I wanted to, for instance, see what the temperature distribution in all my rooms looks like, I can just look at the digital twin."
New tools, new worlds
Greenberg has been laying the groundwork for digital twins since the 1970s.
"In a proposal to the National Science Foundation (NSF) back then, I said I'd like to be able make pictures that are physically accurate, and perceptually indistinguishable, from real-world scenes," said Greenberg, founding director of the multidisciplinary Program of Computer Graphics. Kavita Bala, dean of the Cornell Ann S. Bowers College of Computing and Information Science, did her postdoctoral work in Greenberg's program.
"Very few people were working in this area 50 years ago," he said, "and that ended up attracting a huge number of people over the next two decades, people who were brilliant and ended up helping to change the field."
His ideas didn't go over so well at first, however. He recalled working with the late Cornell astronomer Carl Sagan on creating digital representations of the topography of Mars, "so that if we ever sent up a spaceship there, we wouldn't land in a crater," Greenberg said. The NSF rejected his funding proposal. "We would never do space exploration of Mars," Greenberg said the NSF told him.
Everyone knows how that turned out: In fact, one of Sagan's postdoctoral associates at the time was Steven Squyres '78, Ph.D. '81, professor emeritus in astronomy in the College of Arts and Sciences and the principal investigator for the science payload on NASA's Mars Exploration Rovers.
Around that same time, Greenberg said, he also suggested computer animation to Walt Disney Animation Studios, which said they'd never use that technology. In 1986, Pixar was born, and its collaboration with Disney Animation led to some of the most beloved animated films of all time.
Greenberg was thesis adviser to Rob Cook, M.S. '81, an early software developer at Pixar who shared an Oscar in 2001 for development of the RenderMan software, which produces images used in motion pictures from 3D computer descriptions of shape and appearance. Greenberg said Cook's is one of at least 18 technical Oscars awarded to his former students.
'Amazing intuition'
Cook said Greenberg was "a great guide and mentor" and had a knack for seeing the future of the technologies he taught.
"He is a broad, interdisciplinary thinker with an amazing intuition for what research will be important," Cook said. "And because he stays grounded in the scientific fundamentals, his work has repeatedly led to breakthroughs of long-lasting importance."
Greenberg also advised Michael Cohen, M.S. '85, who was on the computer science faculty at Princeton University, then spent more than 20 years at Microsoft Research before joining Facebook in 2015.
"Before the field of computer graphics even existed," Cohen said, "Don knew it would become a ubiquitous tool for both scientific and creative endeavors. Without his insight and persistence, the field would not be what it is today."
Greenberg (1987), Cook (2009) and Cohen (2019) have all won the Steven Anson Coons Award, given for outstanding creative contributions to computer graphics by the Association of Computing Machinery.
Tesfaye appreciates how Greenberg ties seemingly disparate fields and ideas together seamlessly.
"Whenever he's teaching something, it's not just, 'Let's learn rendering within the context of computers,'" Tesfaye said. "It's always, 'Let's bring in the context of materials, of how it looks artistically,' drawing upon all these different things. I always found that super interesting – you end up getting holistic knowledge of something and not just one specific subtopic."
"That impact of one concept going out to all these different places really helps you retain the information and connect it to new things," Wolford said. "I think that's really important to include that in any course you teach."
Greenberg relies heavily on his TAs, and his students, to learn from and with him. He admittedly isn't the most technically savvy person – "If I have to use my iPhone, I'm going to go to my granddaughter," he said – and he acknowledges that the classroom is a two-way street.
"In all truth – they teach me," he said. "I'm really proud of the fact probably almost 90% of the papers that I've been involved with publishing had students as the first authors. That's Cornell – Cornell is fantastic that way. There's a relationship that has never stopped, and with this new course, it continues."
​By Tom Fleischman for the Cornell Chronicle