Updates will be shared regularly and posted to this page for convenience. 
November 1, 2023 Update: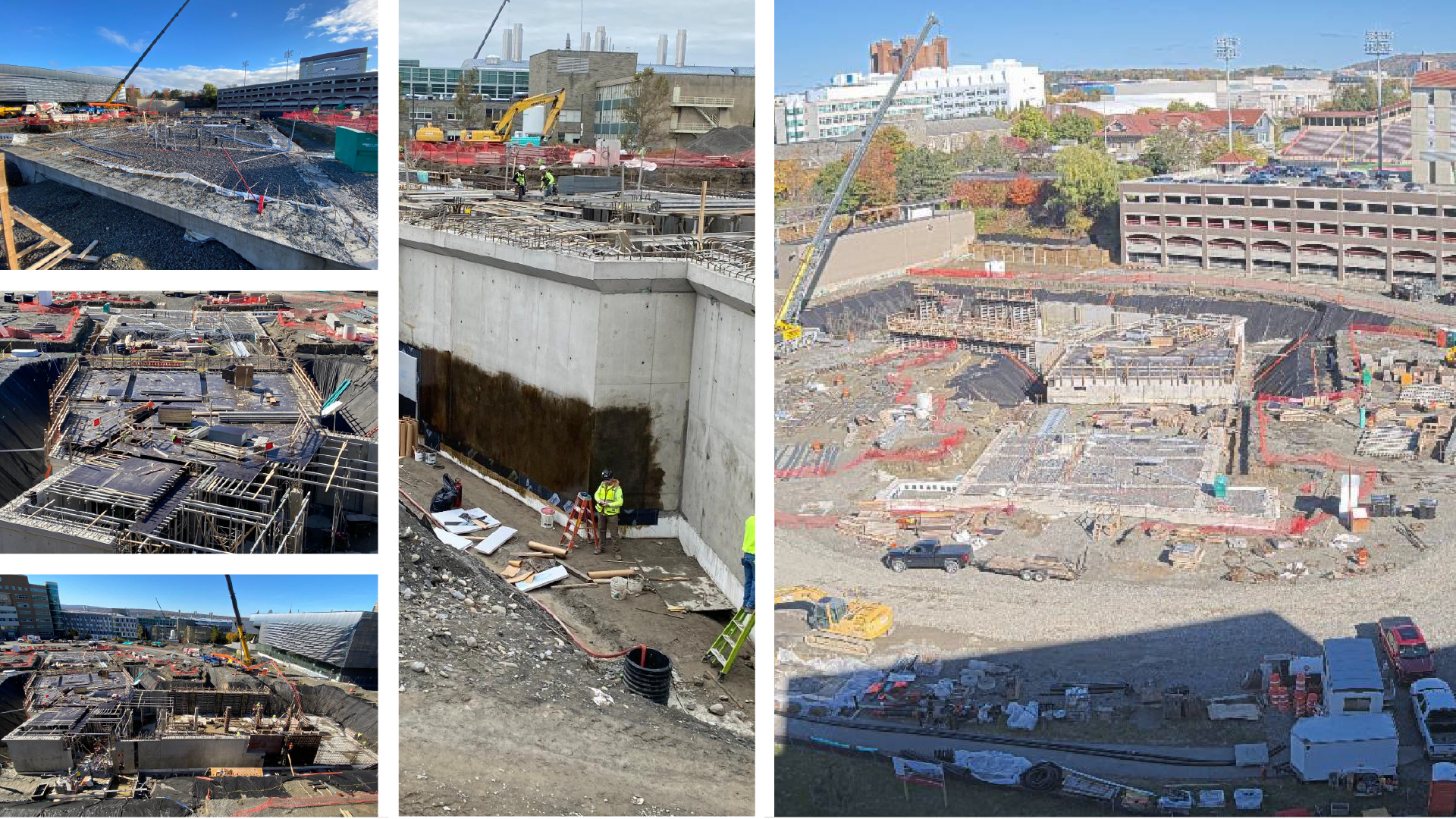 Construction site as of Nov. 1, 2023
October 5, 2023 Update:
September 7, 2023 Update:
Construction site as of Sept. 7, 2023
August 3, 2023 Update:
July 6, 2023 Update:
Construction site as of July 6, 2023
Mass excavation is starting and will be completed in August. 

Crews are beginning the installation of the caissons responsible for supporting the new bridge from Campus Road, which will require some egress changes:

A temporary change to the access/egress through the Gates east entrance. For several weeks, starting July 3, the stairway to Campus Road will be closed and emergency egress from the Gates east door will be routed to the right when leaving the building around the south side of Gates to the west sidewalk.
Partial lane closures on Campus Road, as well as the sidewalk on the Gates side of Campus Road for the duration of the effort. 

In mid-July, a plexiglass type product will be installed internally in all offices and Ph.D. suites with east facade windows on 2, 3 and 4 floors of Gates. This will provide additional protection during the bridge and connector construction.  Occupants along the east side of Gates have been contacted regarding the installation.
June 21, 2023 Update: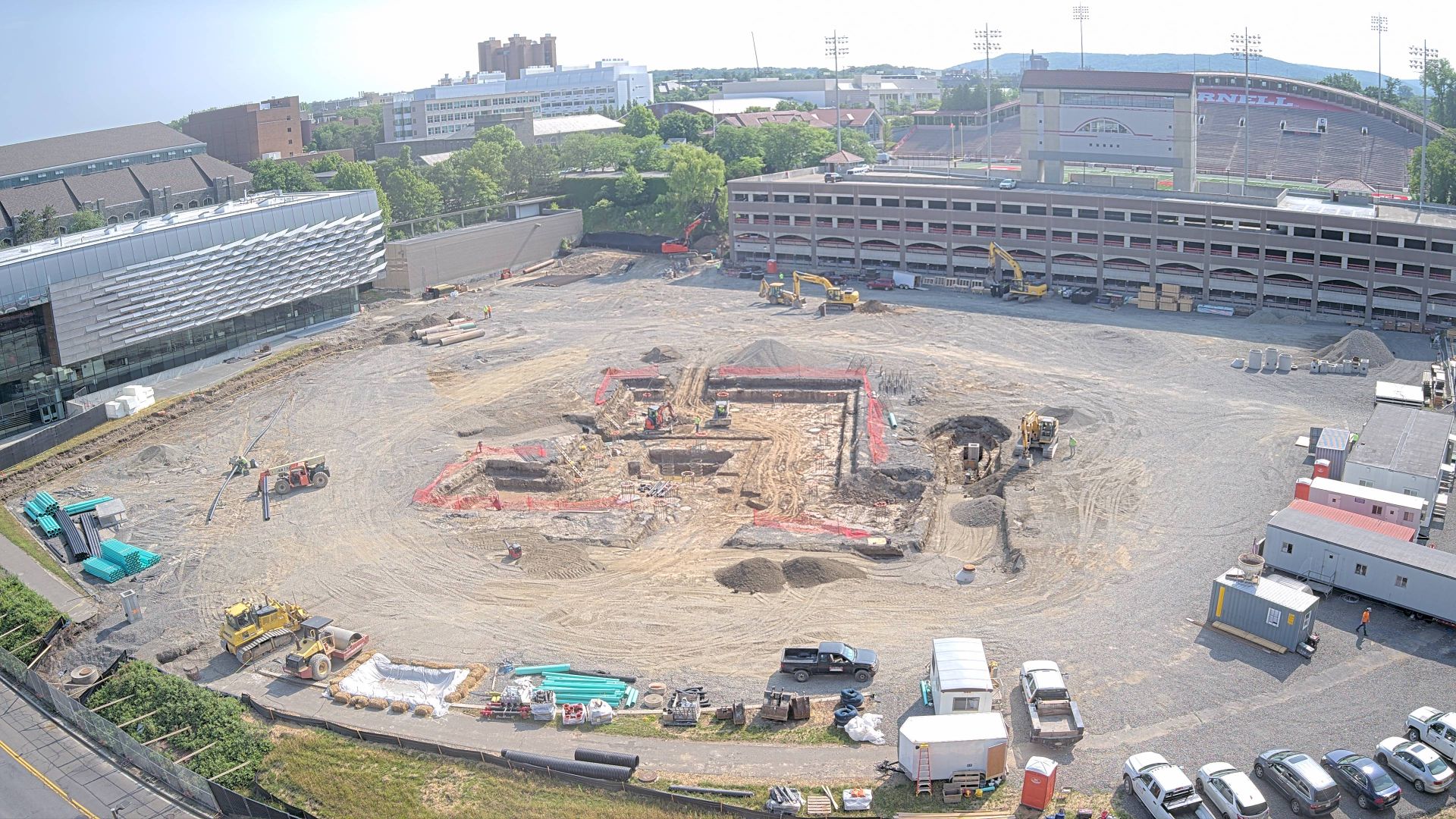 Construction as of June 21, 2023
The caissons supporting the south half of the building are complete.
Deep soldier piles responsible for retaining the bank between Grumman and Hoy Parking Garage will continue for approximately two weeks. Expect some noise and possible vibration, as these piles are socketed into bedrock.
Caissons supporting the connection between the new building and Gates are anticipated to start following the completion of the aforementioned soldier piles and likely within the next 2-3 weeks, through approximately mid-July. 
Following the completion of the caissons adjacent to Gates, the installation of the caissons responsible for supporting the new bridge from Campus Road will commence. This will involve partial lane closures for the duration of the effort. 
June 1, 2023 Update: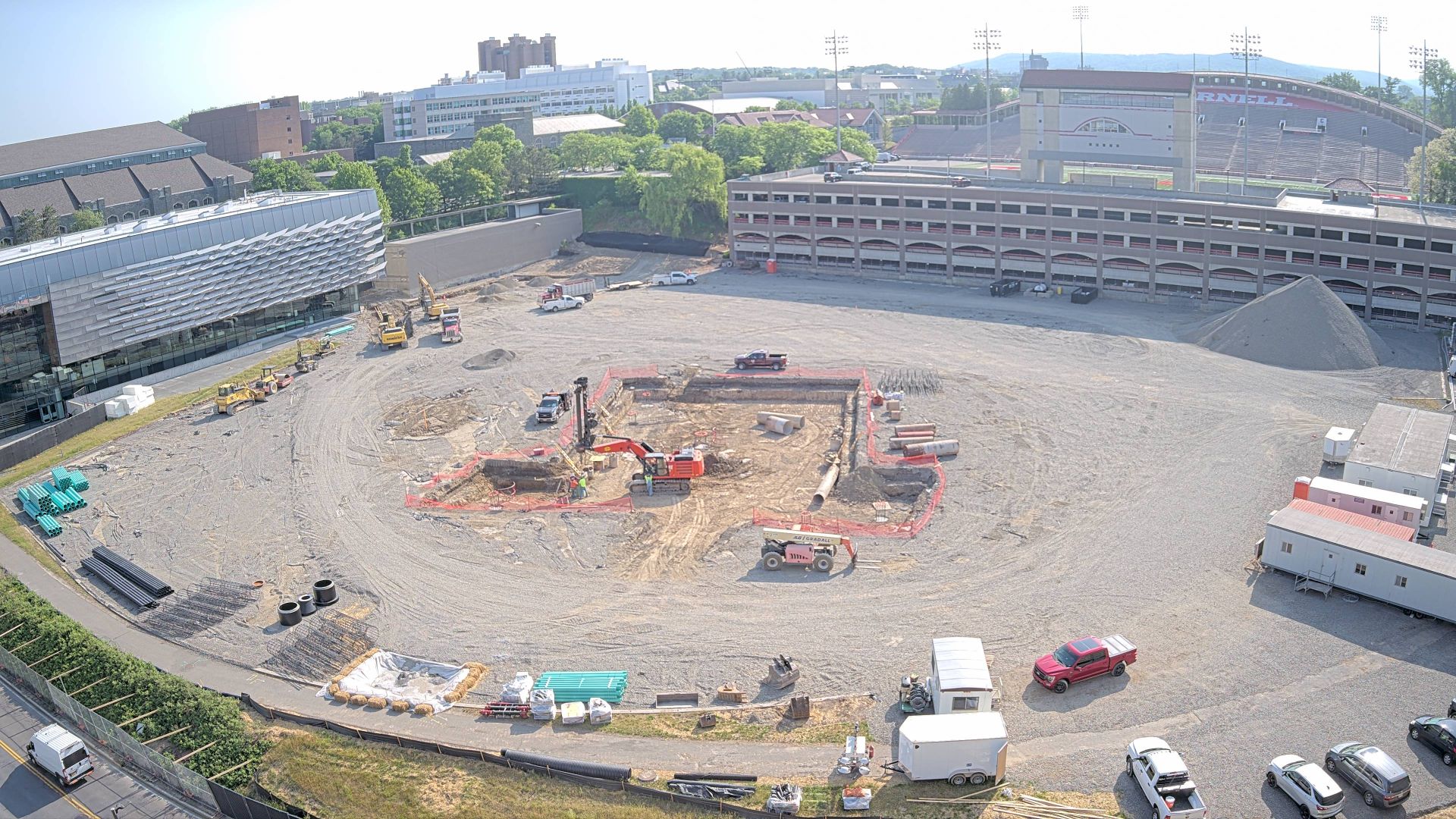 Construction site as of June 1, 2023
May 16, 2023 Update:
Summary below, link to full update. 
With the removal of the bleachers, dugouts, backstop and turf, selective site demolition is substantially complete.
Construction fencing and gates have been erected.
Site utility rework will commence
Site preparation for, and installation of the caissons supporting the south wing is underway.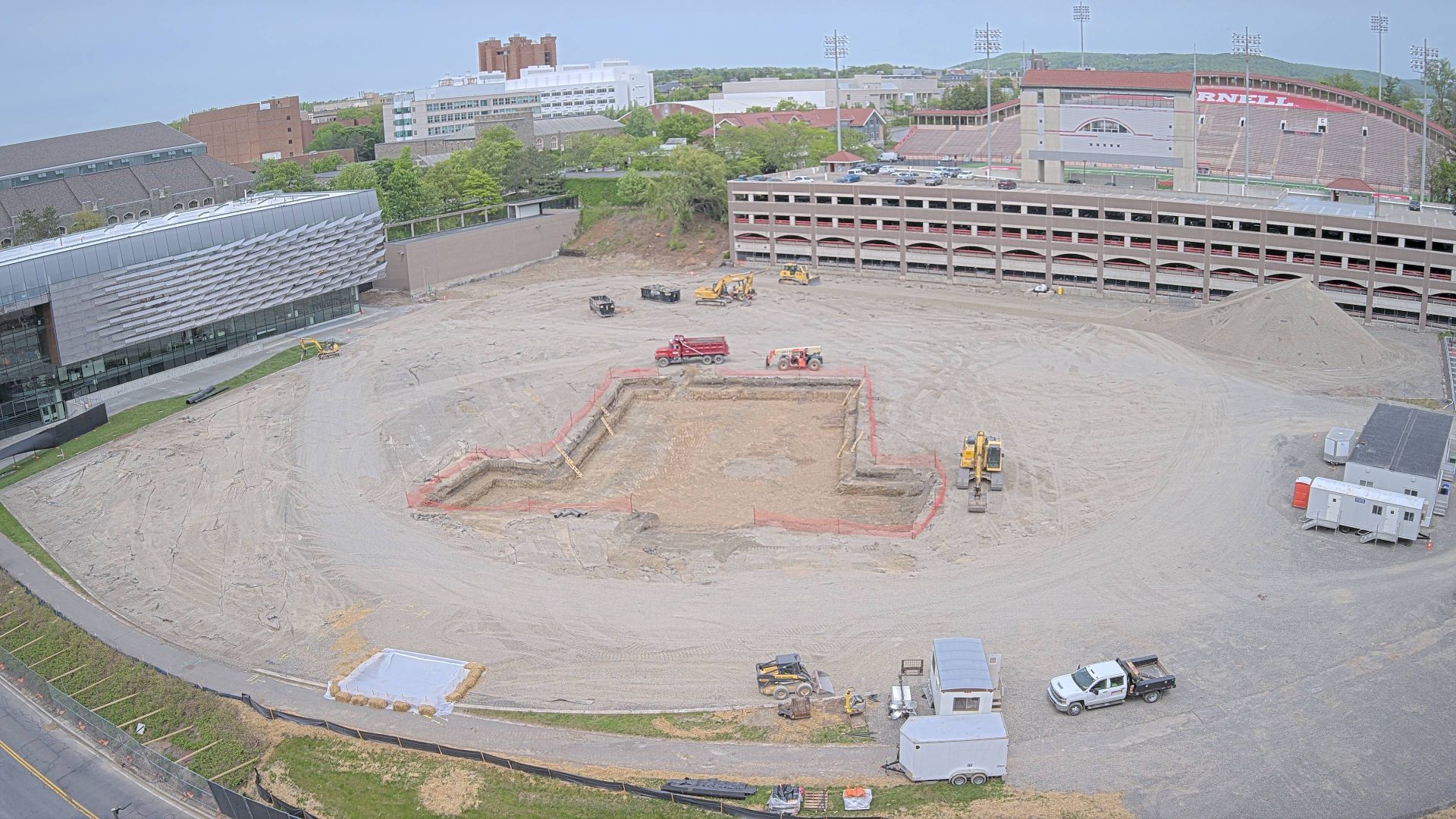 Construction site as of May 16, 2023
May 1, 2023 Update:
Building construction update May 1 2023.
April 14, 2023 Update:
Summary below, link to full update. 
Construction Impacts:
The site will encompass the area of the existing baseball field. Fencing will be installed between Gates and Grumman, along Hoy Garage and Hoy Road. A full site plan is forthcoming.
Pedestrian traffic exiting Hoy Garage south will be directed across Hoy Road for the entirety of the project. Pedestrian exiting to the North will be limited to the 2nd level Campus Road exit.
The site stairs abutting Hoy Garage at the north will become unavailable.
Closure of the parkmobile lot adjacent to the ballfield/garage is scheduled for the week of 4/17; parkmobile remains an option on the garage ground floor.
March 28, 2023 Update:
A message from Dean Kavita Bala:
After more than two years of planning, designing, and fundraising, I am excited to announce that site work for the construction of our new building will start in April! The Board of Trustees approved final plans this past weekend, and we have contracted with LeChase Construction Services, LLC to lead the building effort. We remain on schedule for a spring 2025 completion, with move in by early summer.
The new four-story, 135,000 square-foot building will support critically needed growth of the college's innovative, cross-disciplinary research and teaching, and, for the first time, bring together our three departments into one complex. Located where Hoy Field currently sits, the building will provide new instructional and research spaces — including robotics, builder, and research labs, a design studio, and a large active learning classroom — as well as office space and a variety of meeting and informal study spaces. 
I would like to thank the faculty, staff, and student representatives who shared feedback during design, especially the Department Planning Committee — Donna Bunce, Tammy Gardner, Eileen Grabosky,  Francois Guimbretiere, Joe Guinness, and Fred Schneider. Our architects, Leers Weinzapfel Associates (LWA), have provided an innovative design and we value their continued collaboration.
While we are taking precautions to minimize disruption, working and learning adjacent to a construction site will be challenging at times, more so in some parts of Gates and nearby buildings.  Also, access to and from Gates Hall and the parking garage will change throughout the construction to ensure safe passage. It is critical for everyone's safety to observe these changes and other posted signage regarding restricted access to the construction site.
I offer my heartfelt gratitude to everyone who has helped us reach this point and thank you all for your continued patience and understanding as we move into construction. This is truly an exciting time for the college, and I look forward to our grand opening in 2025. 
Sincerely,
Dean Kavita Bala